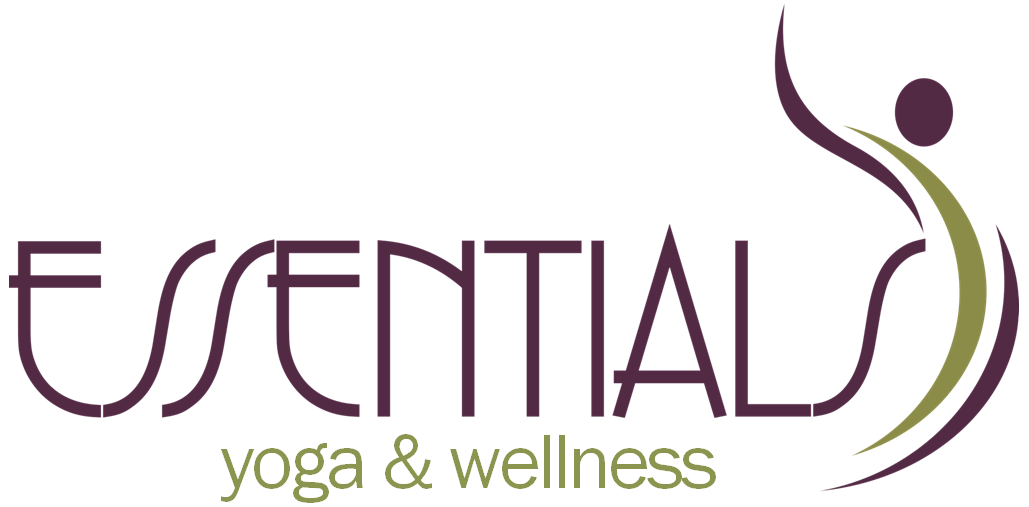 It is the intention of Essentials Yoga and to support our students in creating improved balance of the body, mind, and spirit. Through self‐awareness, mind‐full movement and conscious breath, we promote healing, relaxation and health improvement. Live Healthy! Live Happy!
Essentials Yoga and Wellness studios are located within Essentials Natural Family Health and are created to be warm, safe, and comfortable spaces, held for you. Please be considerate of all who share our space for healing and health. Always leave your space clear and put away your props folded & neatly set for the next class. Keep talking low and be mindful when entering / exiting the studio and when laying down your yoga mat. Thank you, we're glad you're here!
FREQUENTLY ASKED QUESTIONS:
Q. How much does it cost?
Your first class is on us! After that, you can use the Introductory Pass: $30 for 30 days of Unlimited Yoga to try all our classes and see what works best for you. Our standard pricing is:
• Adult (18+) Single Class…..$15
• Youth (<17) Single Class…..$7.50
• 10 Class Pass…..$140
•Annual Unlimited Yoga…..$49 per month (this is listed under the Contracts tab and is a membership to both of our locations)
• Workshops/Specialty Classes & Series are priced separately
Q. How do I register for group class, private class, or a workshop?
Log into MindBodyOnline.com on your computer or download the MindBody app for your Smartphone and find "Essentials Yoga and Wellness." You must create an account to register for our classes – yoga classes can not be paid for at the reception desk. If you have any trouble, JUST SHOW UP and your instructor will help you register. Your first class is on us, register in MindBody for your class then "buy" the free flier option for your first class at Essentials.
Q. What should I wear?
Wear comfortable, close-fitting clothing. (Loose shirts & pants may be distracting or get in your way)
Q. What do I need?
Water, a yoga mat, and the will to try! (If you don't have these, we will provide them for your during your first 30 days)
Q. What if I have an injury, I am recovering, or a have physical limitation?
Please let your instructor know if you have a recent injury or previous injuries that may need attention. If you are under the care of a doctor / chiropractor let us know! Yoga postures can be modified and will be to ensure you have a safe and effective experience. You should always, and we will inspire you to, listen to your body and work at your own pace to improve your physical and mental wellbeing. We encourage you to relax, quiet your mind and tap in to the natural rhythms of your body, to rejuvenate yourself through breath and mind‐full movement!


Q. Do you offer yoga for kids?
We will be offering Kids yoga and/or Mommy & Me Yoga class series seasonally – watch for announcements. Kids ages 8 ‐ 17 are welcome to join group classes and have a special, reduced rate. All kids who express interest and want to try yoga are always encouraged to join! Those that have had exposure to yoga through their families or experience in a focused sport or other practice have been highly successful in yoga. Use good judgment when you choose to bring your youngster to class with you. They may be asked to sit away from you so they (and you) are not distracted by trying to help them, the instructor will give them the attention they need for a safe experience. Yoga practice is an individual process. Your children will learn self‐control, to listen, and to trust themselves, and the instructors ‐ just as you do!
Q. What to expect?
All Essentials Yoga and Wellness classes are appropriate for beginners. We offer small, personalized classes (8‐10 max) in two beautiful locations. Essentials Yoga Instructors are experienced, passionate and caring, and they are here to serve you ‐ don't hesitate to communicate. If you are new to yoga, or if you are recovering from an injury or have a physical / mental disability, please let your instructor know so they may assist you for a safe, effective yoga‐for‐health experience.
• There is a restroom for changing your clothes if you are going to / coming from work.
•If you do not have a yoga mat, we will loan you one and you will be asked to clean your mat after class.
• Filtered water is available, if needed.
• We do not have showers.
•We are a Natural FAMILY Health clinic and we offer classes for all shapes, sizes, and ages! Watch for upcoming pre‐natal yoga, chair & senior yoga, yoga for cancer patients & care givers, 30 minute lunch‐time meditation, nutrition workshops, and more!
•We do have a variety of services available to you in our convenient locations. Essentials Natural Family Health offers: Natural Family Chiropractic & Acupuncture Care, Physical Therapy, Massage Therapy, Aromatherapy, Nutrition, and more!
Q. What does "Namaste" mean?
Namaste is a Sanskrit word, a gesture or intention of respect, basically meaning: The divine within me recognizes and honors the divine within you.