Essentials Family Chiropractic & Wellness




Essentials is Omaha's leading natural health clinic. Our services include gentle chiropractic care, acupuncture, massage, physical therapy, yoga, and lifestyle and nutrition counseling. Essentials is a patient focused health care facility in which you will feel like family upon your arrival. Our philosophy is centered on natural treatment plans that are focused to your needs. We will not over treat or set up long exhaustive treatment plans. If our treatment plan is not working for you we will refer you to Omaha's best healthcare providers. Our specialties include pregnancy care and treatment, children and families, and those with an active lifestyle. For a list of other benefits of choosing Essentials Family Chiropractic and Wellness please see below:
"No Wait Policy". All of our patients are seen immediately.
Friendly and courteous staff.
iPads in the waiting area.
Professional but comfortable atmosphere.
Large private treatment rooms.
Convenient location.
Secondary evaluations/opinions.
M.D. and attorney referrals.
Most insurance accepted; we do all the paperwork.
Services and Treatments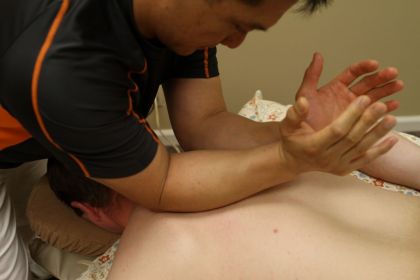 Essentials Family Chiropractic and Wellness offers many services and treatments to help solve your specific issues. Our goal is to offer you the most dedicated, well trained, natural health professionals in Omaha. Our chiropractors, acupuncturists, massage therapists and physical therapists are highly trained and motivated for your service and conditions. We pride ourselves on the most talented and professional staff in the Omaha metro. We believe that a well rounded treatment plan of multiple services will get you back to optimum health as quickly as possible. Our services include the following:
Chiropractic

Acupuncture

Massage

Yoga

Lifestyle and Nutrition Counseling
Insurance Accepted & Payment Plans



We gladly accept most health insurance. Individuals in need of our services who lack insurance and who are worried about the high costs charged by many other clinics need not worry. We have highly affordable rates and flexible payment plans allowing access to high-quality care for you and your family. We offer the most flexible hours in Omaha to serve your health needs.